"Operating Practices for Industrial Water Management, Influent Water Systems" by Loraine Huchler, P.E., CMC, published September 2007 by Gulf Publishing, Inc.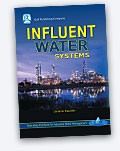 "In this first book on pretreatment, Loraine Huchler has given us a pragmatists' "cook book" on managing the vulnerability associated with industrial water treatment systems."
-Timothy C. Svarczkopf, Utilities Process Technologist, Marathon Petroleum Company
This book describes the most effective ways to operate the plant, simplify troubleshooting and prevent outages. This series of books offers the engineer and process plant technician operating guides that have direct, practical use by operators and is immediately useful in this field. Included are operating principles, troubleshooting information, test methods, specification limits, tips and "rules of thumb" for operations and inspections personnel.
Click a link below to preview content from the book.
NEW! Read about Cold Lime Softening, an excerpt from Chapter 2 – download PDF
To order a copy of this innovative book, contact Loraine Huchler at huchler@martechsystems.com or +01-609-896-4457. For more information, go to www.gulfpub.com.